As we all know that the recent global lockdown forced institutions and organizations across the world to shift towards remote tools and operations. Due to the prohibition of in-person gatherings, many institutions and businesses around the world has moved their meeting online.

Zoom Meetings is a most popular videoconferencing solution that was previously used by those who frequent board rooms. As the result of global lockdown due to COVID-19 outbreak, many businesses moved online for team collaboration and Zoom has become a popular choice.
Zoom has seen a massive growth of daily users from 10 million to 200 million in just a matter of months as COVID-19 took hold. People are using Zoom to host virtual meetings.
Why Zoom is not a right choice for everyone?
Zoom is not necessarily the best option for all businesses. Their service has been criticized by many for its privacy and security issues. Many of its users also reported an increase in "Zoom bombing" where meetings get crashed by anonymous guests. Hence Zoom is not a right choice for people who care about privacy and security.
BrainCert Virtual Classroom for live meetings:
BrainCert's next-generation HTML5 Virtual Classroom is designed for seamless synchronous and asynchronous collaboration capabilities between presenter and attendees. It enables face-to-face collaboration with attendees in real-time enlarged video conference mode with automatic speaker detection.

HTML5 Virtual Classroom functions in nearly the same way as a traditional physical classroom. BrainCert offers the largest secure global infrastructure, enabling you to schedule and launch virtual classroom sessions no matter where you or your attendees may be!
Core Features:
Video conference in HD
Web Android and iOS support
No software download necessary
Available in 50 languages
BreakOut rooms & Polls
Group Screen Sharing
Code editor& Group Chat
Session recording & Playback
Attendance report& analytics
Fine-grained access control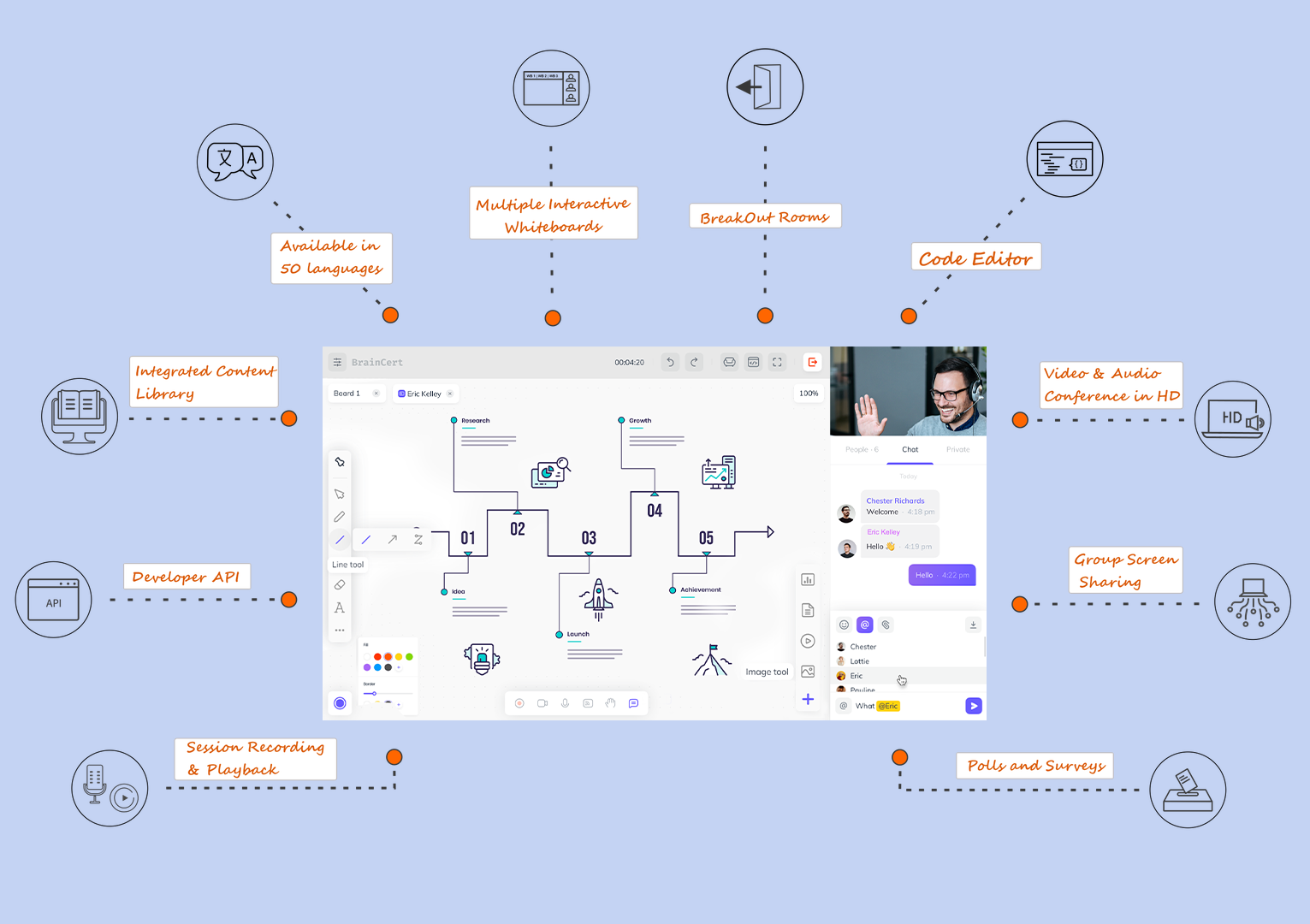 Why Choose BrainCert Virtual Classroom ?
BrainCert offer the world's first WebRTC powered HTML5 Virtual Classroom in 50 different languages for localization and provides a real-time collaboration and state-of-the-art classroom environment for all your learners.

Our disruptive new HTML5 technology comes packed with hundreds of features such as instant session recording, screen sharing, multiple interactive whiteboards, group chat, poll & surveys, presentations, audio/video streaming and many more .
WebRTC based Ultra HD audio and video conferencing with great resiliency and multiple full HD participants without having to install additional plugins.
BrainCert offers the largest secure global infrastructure, enabling you to schedule and launch virtual classroom session irrespective of presenter and attendees locations.
BrainCert's Alternative Route Path (WARP) technology offers superior connectivity and overall performance boost across all global datacenter locations.
All virtual classroom tools and session data are encrypted using industry standard AES-256 encryption.
REST-based Developer API to easily integrate Virtual classroom in your website, CMS, LMS, or app.
High-end custom STUN/TURN servers that work amazingly fast over Transport Layer Security (TLS) transport enable seamless connection to our global network.
Powerful reporting and analytics dashboard to quickly and easily obtain a wide variety of useful data such as duration, time in/out, and attendance report about your attendees.
BrainCert integrates seamlessly with PayPal and Stripe to sell your live classes, conferences and webinars for faster revenue.
The online polling feature is a must in a virtual classroom to get attendees feedback. Arrange online polls with questions and receive answers instantly.
Stream all your audio and video files using our global CDN with low latency worldwide coverage. Your audio and video files are stored securely and protected using signed URLs.
With just a few clicks, you can fully encrypt your custom hostname, improving your security and performance, increasing customer trust, and boosting your SEO.
Check out for more advanced features here

Being the World's first WebRTC powered Virtual Classroom, BrainCert is the best choice to host live meetings for your organization or institutions. Leverage this powerful tool and provide a comprehensive online classroom environment to deliver more engaging, interactive and personalized training for your learners/students or attendees.