A new major update for virtual classroom has been rolled out today to all global locations.
A quick look at new features part of this release:
1. "Corporate" mode to enable devices upon entry
We've introduced a new "corporate" mode to enable webcam and microphone upon entry. You can set this when scheduling a live class.
Yes to allow attendees to enable their microphone and webcam without permission from instructor.
No to disable webcam and microphone upon entry. Classroom is moderated and instructor has to pass microphone and webcam controls to attendees
2. Enable/Disable Screensharing
We've introduced a new feature to enable or disable Screen Sharing feature when scheduling a live class.
Yes to enable screen sharing
No to disable screen sharing
3. New whiteboard layout options
We've introduced new whiteboard layout options to choose from.
Loads full app with whiteboard + audio/video + attendee list + chat
Loads only whiteboard + attendee list
Loads only whiteboard + attendee list + chat
4. Raise hand numbering in order
Put numbers next to raised hands so the moderator knows what order to call people on.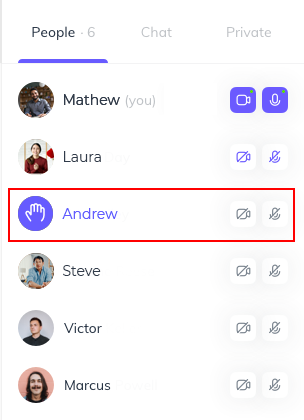 5. Plugin-free screen sharing for Firefox browsers
Starting with Firefox 52+ releases, it is not required to install our screen sharing plugin. It will work plugin free.
6. Improved whiteboard drawing
We've greatly improved the free drawing speed, smoothness and accuracy on the whiteboard.
7. Safari 11 browser support
Apple recently released Safari Technology Preview release 32 version, which is built into macOS High Sierra and will support WebRTC required for audio & video conferencing. Safari compatibility is limited to only Safari 11. To get Safari 11, you can download the Safari Technology Preview, Mac OS 10.13, or iOS 11.
BrainCert will support iPhone and iPad devices in coming fall (autumn) using the upcoming Safari 11 stable browser version.
8. Add WEBM support in media player
Media player will now support playing WEBM video files. The other media formats supproted are MP4 and MP3.
9. Support for keyboard shortcuts
You can now use keyboard next/previous arrows to navigate documents on the whiteboard. We've also added support to allow ctrl+c (copy) and ctrl+v (paste) keyboards shortcuts to copy any object and paste it on the whiteboard.
10. Troubleshooting automation
Video settings popup will now automatically open if webcam or microphone device cannot be detected by the browser advising you with some tips to fix the issue.
When the app cannot detect your webcam or microphone, it will popup the video settings screen: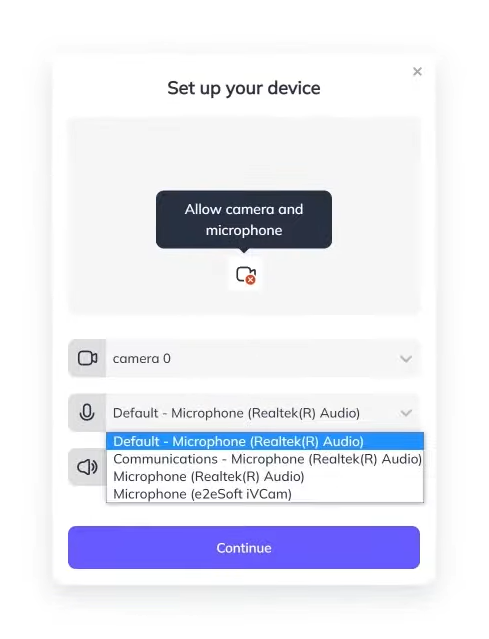 Troubleshooting tips will be shown if the issue is related to the your device:
10. Speaker test tool
We've added speaker test tool to ensure the sound output works and you can hear others during the live session.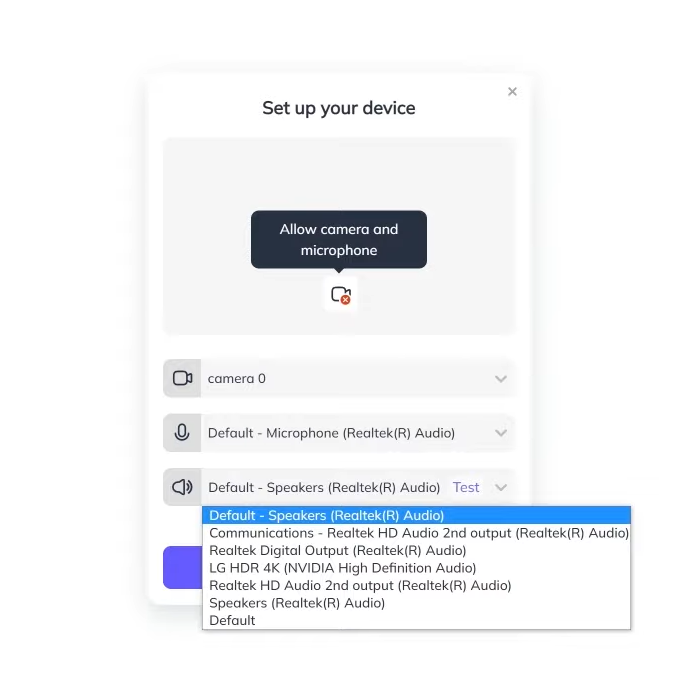 ---
Bug fixes & Improvements
Fix Chrome browser crash issue when adding a lot of objects on the whiteboard
Do not show "No internet connection" dialog box in some cases where it is not an actual connection outage
Fix up layout of raise hand notification
Fix chat number notification layout on mobile devices
Fix auto recording that sometimes does not produce video issue.
Fix minor issue related to the audio muting during screen sharing
Fix minor issues related to saving chat conversations