A successful onboarding process starts from the moment a job candidate accepts an offer from your company and can continue for several months in some cases.
1. What is an effective onboarding process?
It's a planned process that helps a newly hired professional become acclimated with his position and your company. It allows him to ease into his role gradually, making it more comfortable to handle the transition while learning new things, understanding the business, melding into the company culture, and building relationships with other employees throughout the organization.
In today's fast paced technological world, an increasing number of organizations are seeing the benefits of moving from traditional employee training methods to online, cloud-based learning management systems (LMS). These systems are designed to deliver and manage instructional content, assess individual and organizational training goals, track learning progress, and can organize data and reports for training supervisors. Learning management systems can not only result in greater learning results for your trainees but also offer a more organized, cost effective training approach.
With that said, if you are looking to choosing and onboarding both your training team and new employees to a new cloud-based LMS, take a look at these tips below.
2. Make it flexible and modular
The flexibility of an onboarding program is critical. People have varying needs and learning styles which need to be accommodated. Creating your onboarding training using a modular format enables new employees to navigate to the specific material they want and allows you to develop unique programs for groups of staff by creating the perfect blend of modules, gleaned from a 'library' of your organization's learning curriculum. In other words… "have it your way" by picking, choosing and combining different learning modules- giving you, the content designer, maximum flexibility.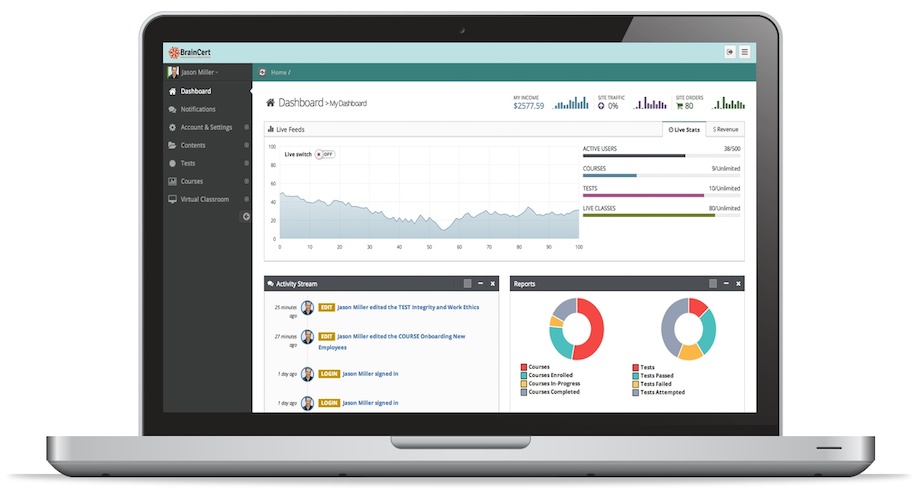 3. Create the course content
Virtual employee training sessions can include all the same content as in-person sessions, including PowerPoint presentations, videos, and audio recordings. Import the content you've used previously into the Learning Management System of your choice to begin developing the curriculum for your course.
4. Have the learner in mind
When considering an LMS in your workplace, sometimes managers focus only on big-picture goals and ignore the user experience. LMS users will tend to have high expectations based on their personal web experiences. They might expect an LMS to be able to personalize to their needs, have more visual appeal, and also expect quick access to learning. Instead of presenting them a system that might meet the company's needs simply in terms of administration and functionality, make sure a simple and appealing user experience is at the core of your requirements.
5. Plan for the LMS beyond the initial training period
Be gentle and have a long-term outlook for LMS value in mind. Don't force new employees to use the software just for the initial, mandatory training period. It might backfire, as some learners – who are being asked to absorb a lot of new information about their daily work responsibilities anyway, may feel overwhelmed with having to quickly learn the new software. In addition, some might fail to fully see the value which the system brings to them, so motivation might be low to get the maximum value from the LMS. Instead, be sure to communicate the benefits that the LMS can offer them, and provide content that is directly tied to their regular tasks, as opposed to something too abstract. On that note, your learning strategy – as reflected in LMS itself – should be one that is forward thinking and continuous, long after the initial training period has been completed. Humans learn most effectively through both repetition, and relevance, in the moment of need. Keep that in mind.
6. Win hearts and minds
It is important that new employees are made to feel that they are part of the organization right from the start. Your onboarding should include the three B's:
Belonging - promote a sense of belonging and welcoming
Believing - create a positive attitude that makes them proud to work for you
Behaving - be clear on expected behaviors.
7. Make it real
Using people-based examples to bring your organization's messages to life is as real as it gets. Essential pieces of information in the onboarding program can be conveyed through personal examples and stories of the jobs, responsibilities, and procedures for their specific job. Something to think about: Incorporate stories from both senior management and recent hires that can provide relevant and relatable stories that will resonate with your new employees.
8. Put a unique spin on each department's training course
An employee in accounting doesn't necessarily need to learn all the same policies as an employee who works in marketing. Most learning management systems allow you to make copies of your virtual seminars, and then edit those copies to create unique versions of your seminars for different departments or subsets of users.
9. Provide confirmation and clarity
It is important that the new employee feels their decision to join has been confirmed very quickly. To do so, combine strategies such as positive messages about the organization, stories of personal growth and progression, and tips and best practices on how new employees can understand 'how things work,' ultimately establishing a clear path to success.
10. Train often
Just because your employees have been successfully onboarded to the company doesn't mean that training is over. Continuous training and new learning opportunities can give your employees the ability to participate in leadership development while staying up-to-date in your industry. This not only insures employees will have the knowledge they need for success, but it also cultivates talent that can grow with your business.
Lastly, of equal importance is the ability of the LMS – and the learner and manager utilizing it – to monitor and analyze where the employee is progressing and where there remains room for improvement. Be sure to provide an opportunity for employees to evaluate their learning experience. Surveys are quite simple but can be very informative when used effectively. And the LMS should have a comprehensive analytics function which can provide accurate data as the learner continues to progress. This data will be invaluable in justifying the continued investment of resources in the LMS itself, and will provide guidance as to potential refining of the learning plan.
---
BrainCert's Enterprise LMS is a feature-rich learning, and teaching platform to run a versatile online training and collaboration program for your students, employees, partners, or customers with real time tracking of training results. BrainCert's fully managed hosted platform offers a secure, reliable and scalable environment ensuring the highest availability of your training applications and data.
Powerful training platform with built-in Virtual Classroom
Easily on-board, engage, collaborate, and retain your customers with role-based access control.
This complete white-label solution allows you to easily rebrand BrainCert Enterprise LMS with your own logo, domain, users, look & feel, and theme. Enterprise LMS comes integrated with 4 core platforms in one unified solution - courses platform, online testing platform, award-winning virtual classroom, and content management system. The result - significant cost savings, increasing productivity, and secure, seamless and enhanced user experience across all platforms.
- See more at: https://www.braincert.com/learning-management-system