BrainCert, an all-in-one unified training platform, has been named a High Performer in G2 Grid® Reports for Fall 2022.
G2, the world's largest tech marketplace and review platform, is the trusted source that helps business professionals make informed software decisions through over a million peer reviews. G2 recognizes leaders of a particular domain and awards the High Performer badge to brands with a high customer satisfaction score.
Rated #1 for Ease Of Admin,
High Performer Small business,
High Performer Mid-Market,
High Performer Virtual Class, LMS, and C-LMS and
Best Meets Requirements Product.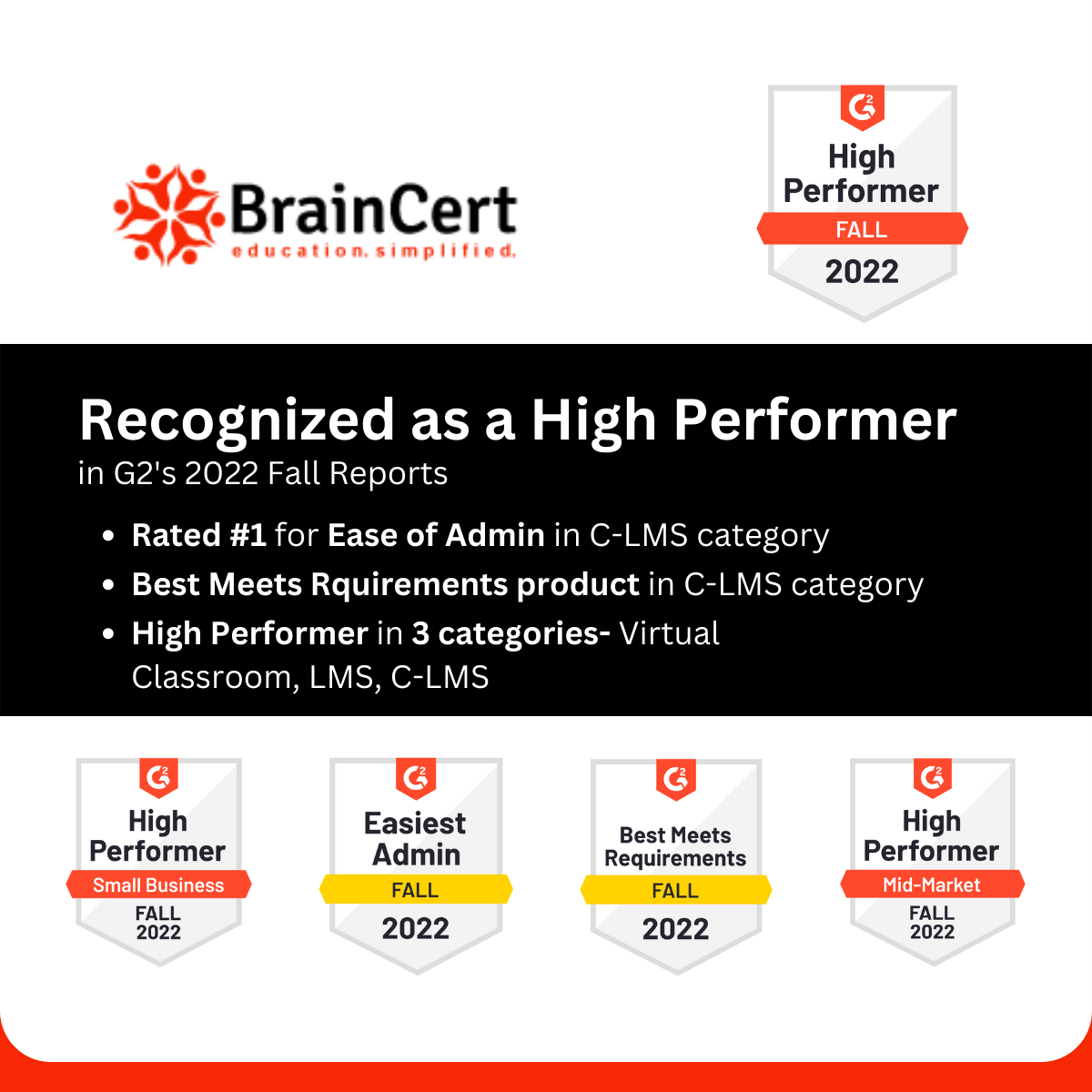 BrainCert received an average rating of 4.6/5 on G2 and was recognized and lauded for its capabilities and ease of access.
About G2
With more than 1,220,500 reviews, G2 is one of the world's leading business solution review platforms. Business professionals, buyers, investors, and analysts use peer reviews and synthesized social data to compare and select the best software and services.
Every quarter, G2 scores products and vendors based on reviews gathered from their user community, as well as data aggregated from online sources and social networks. They analyze this data with their proprietary algorithm to calculate the real-time Customer Satisfaction and Market Presence scores.

Rated #1 LMS and Virtual Classroom

Virtual Classroom
Attendees can join the live session anywhere, using any device, thanks to BrainCert's mobile-friendly virtual classroom. Using BrainCert, instructors and teams can deliver highly interactive online sessions and collaborate through video conferencing, screen sharing, breakout rooms, online whiteboards, and more.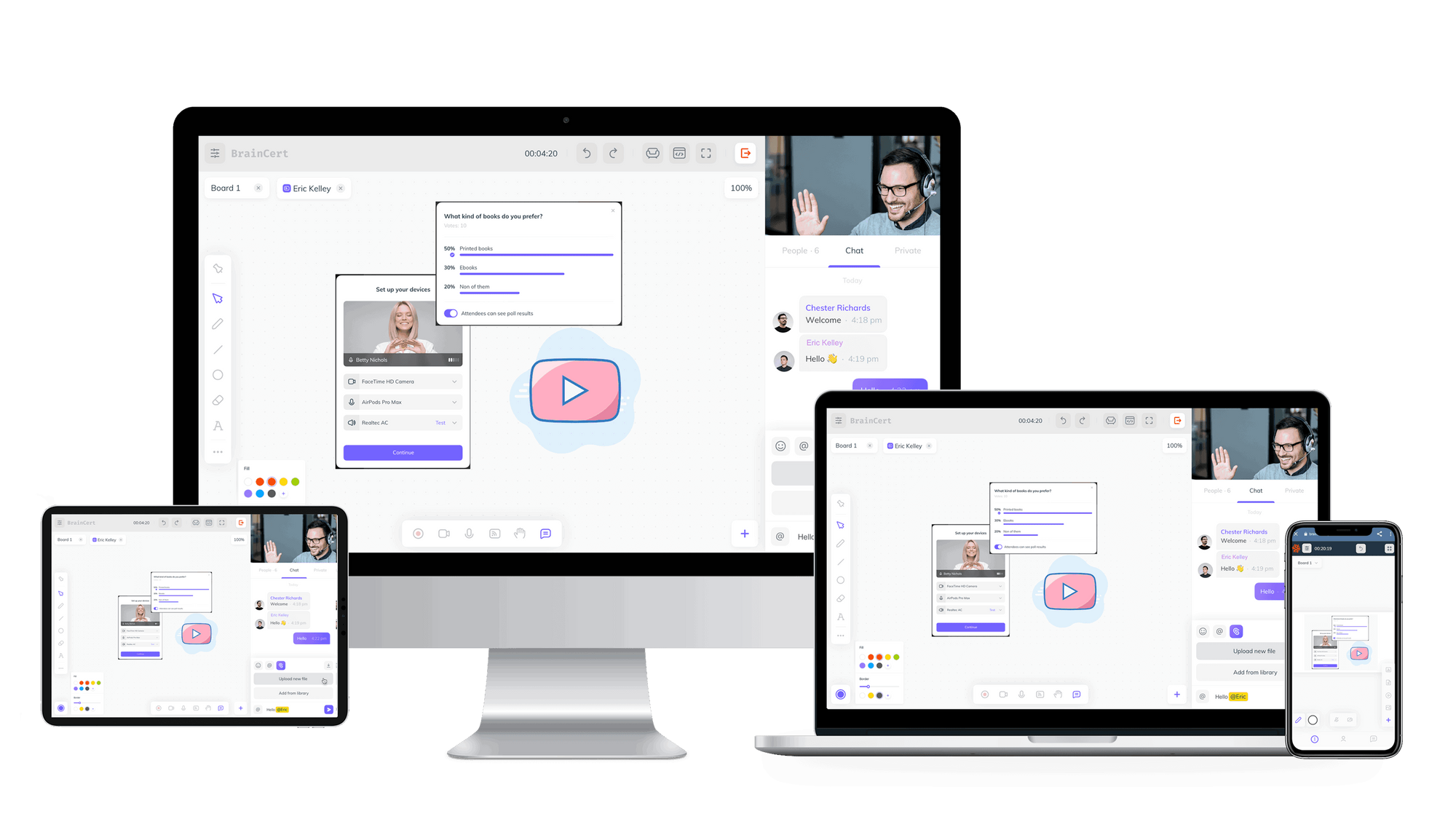 Unified LMS for Small, Mid-Market, and Enterprise Customers
BrainCert's mission is to make employee learning accessible and engaging. Providing on-demand training throughout the year is easier, more flexible, and more controlled since it allows them to centrally manage and control the training content. By combining technology with learning, organizations can easily foster a culture of continuous learning, since the whole process is well-structured.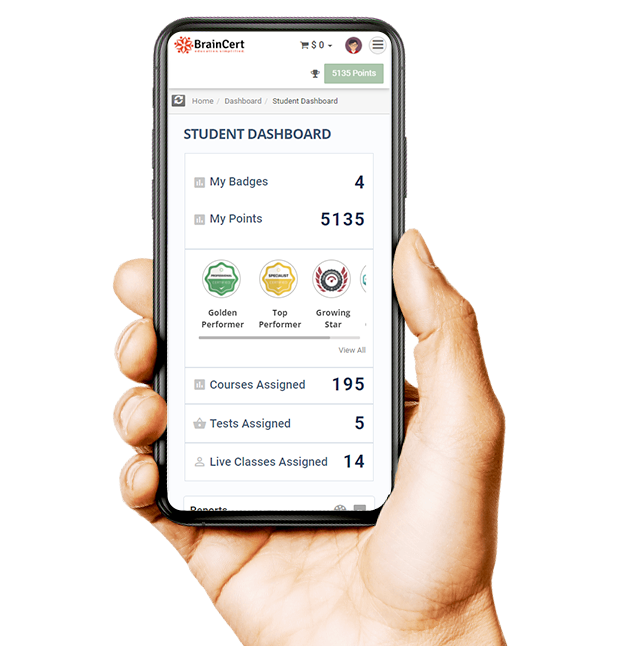 Take your business to the next level with BrainCert aced features with an engaging LMS platform for conducting a small business, mid-market, or extended enterprise training program that accelerates user retention and leads to business success.
To Wrap up
Our goal at BrainCert is to improve and help our users do better constantly because of their loyalty, continuous acknowledgement, and feedback. In an era of rapid technological development and increased competition, companies around the world struggle to keep up with innovations. With BrainCert's innovative tools and enterprise-grade features, you can stay ahead of the higher performance curve.
Try BrainCert free today!