With BrainCert Site Builder tool in the Unified Training Platform, you can easily create beautiful landing pages that drives traffic, generate leads and look great on any device for your LMS academy in minutes. Choose from our built-in library of mobile-optimized awesome templates that are proven to convert, and edit page content to reflect your brand. With the drag-and-drop page editor, customizing your page's content, images, layout, and branding is a snap.
What is a Landing Page
A landing page is a website page that will serve as the homepage when users visit your BrainCert subdomain or external domain mapped. BrainCert provides several targeted, well-crafted, and responsive landing page templates that can be easily customized using the site builder tool. Landing pages are an easy, effective way to convert website visitors into customers and generate sales in one place.

A key element of the Landing Page
The landing page creates huge curiosity which is the reason for a new lead, sales, and new users, so the foremost thing to keep in mind is, that it should be attractive. And the other elements are,

1. Strong Headline: This is what a user first notices, so it should be strong, clear, and on point with what our landing page is. It should grab the attention of users as soon as they land on your page.
2. Impressive imagery and media: Not to make a user bore, is an important thing to keep in mind. Instead of using long text, use images that are eye-catching and attractive same time should be relevant to the content on the landing page.
3. Featured courses: Showcase your courses here, so users will get to know the newly released courses and this part will increase the engagement rate.
4. Social proof or testimonial: Make this a place where users get to know about what people are saying about you. This is the act of recommendations or references from the people who actually used it before.
5. Unique certification methods: Here people come in for their certifications. Make sure the landing page is as user friendly and it is an effective element to incorporate your conversions.

Landing page VS Home page
Are they the same or different? Same with different names? No.
To give a broad definition both are different from each other. In simple words, the Home page is what you create for yourself, and the Landing page is what you create for your users.
Both comes with different goals or purposes.

Create a new landing page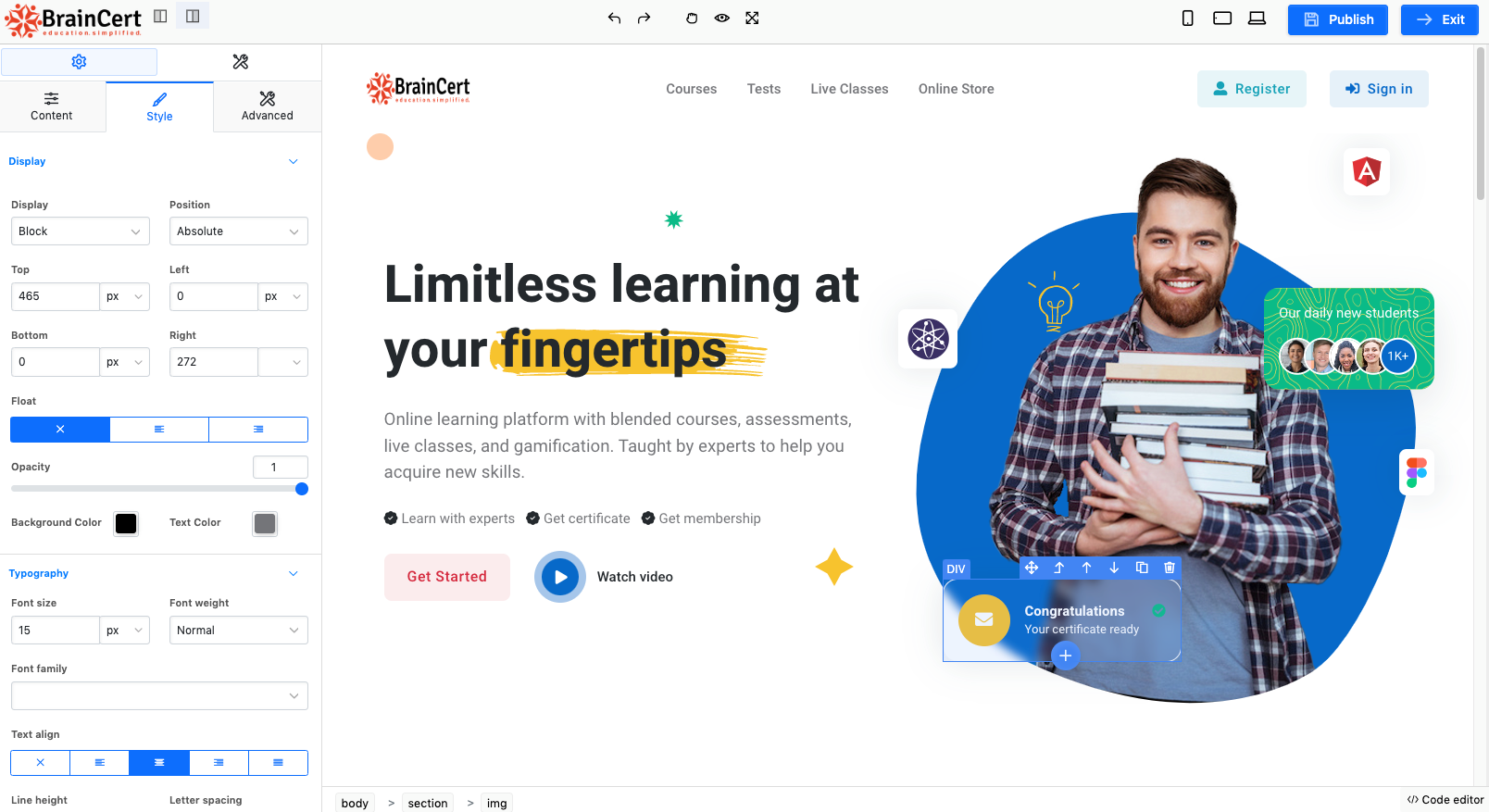 Log in to your BrainCert LMS domain with your account credentials and navigate to Marketing and Landing Pages and click on 'Create New Landing Page'.
Follow these landing page instructions in our support site to build your awesome landing page and set it as the default home for your learning academy portal.
To sum up
With the amazing site builder tool, it is very easy to drag, drop, click, and edit to customize your landing page in no time. Provide your customers with the best experience possible by tailoring landing page content to reflect your brand identity.
Try BrainCert today! Start your 14-day free trial now.