Learning is more accessible than ever in this comparative world, and educational institutions must integrate interactive content and multi-directional tools to make learning more accessible for their users. It is through this process that users can increase their knowledge and skills, which in turn results in more efficient educational practice and higher engagement among users
BrainCert is an integrated learning platform that will help you in building an interactive virtual classroom for successful online coaching classes. With Braincert teachers and tutors will be able to conduct highly interactive online sessions through,
Video conferencing
Screen Sharing
Breakout rooms
Online Whiteboards
A Successful Engagement Can Be Saved By
Incorporate real-time interaction into your learning process: Real-time learning refers to knowledge acquisition based on immediate needs. There's no need to wait for the next training session or take a lengthy online course to find the skill you need.
Discussion Boards: You can "humanize" online learning through discussion boards: They are an effective way to get students involved. As well as creating a sense of community, discussion boards help to create a social presence in an online course. Empathy can be fostered through presence and community.
Maximize engagement with non-task interaction: You need to stay out of work to attain a focus on work. Make the environment fun so that students are never afraid to ask any questions or feel hesitant when asking them.
Communication: Having a sense of belonging and belonging to a community with like-minded students increase their level of engagement. By requiring students to participate in the community, students can connect with instructors and fellow students, discuss coursework, help each other through struggles, and, most importantly, become more engaged in their online courses.
Microlearning: You can create microlearning by breaking your course down into smaller chunks and grouping them according to milestones. Students can be rewarded for their progress with a quiz or another interactive activity after completing a milestone.
Keys To Take A Note In Virtual Classroom
To get groups of students interacting with each other in a virtual classroom might be to work a bit harder. The good news is that videoconferencing platforms usually come with some really useful tools. Takeaway seven ideas from this article and use them in your online classes.
A digital whiteboard and LIVE video training can be used to teach
Maintain grades, courses, and routines on a daily basis
The ability to create and assign assignments online
Keep track of student progress and provide feedback
Ensure that every training session is recorded
Easily navigable on mobile devices and desktops.
Easily integrate Virtual Classroom API in your own LMS, CMS or website

Virtual Classroom features that BrainCert aced 🚀
Our goal is to make virtual learning as hassle-free as possible for you. The award-winning BrainCert Virtual Classroom is equipped with 100+ enterprise-ready features.
Founded in 2013, BrainCert is a market-leading WebRTC-powered virtual classroom platform that works seamlessly without the headaches typically associated with early stage virtual classroom platforms.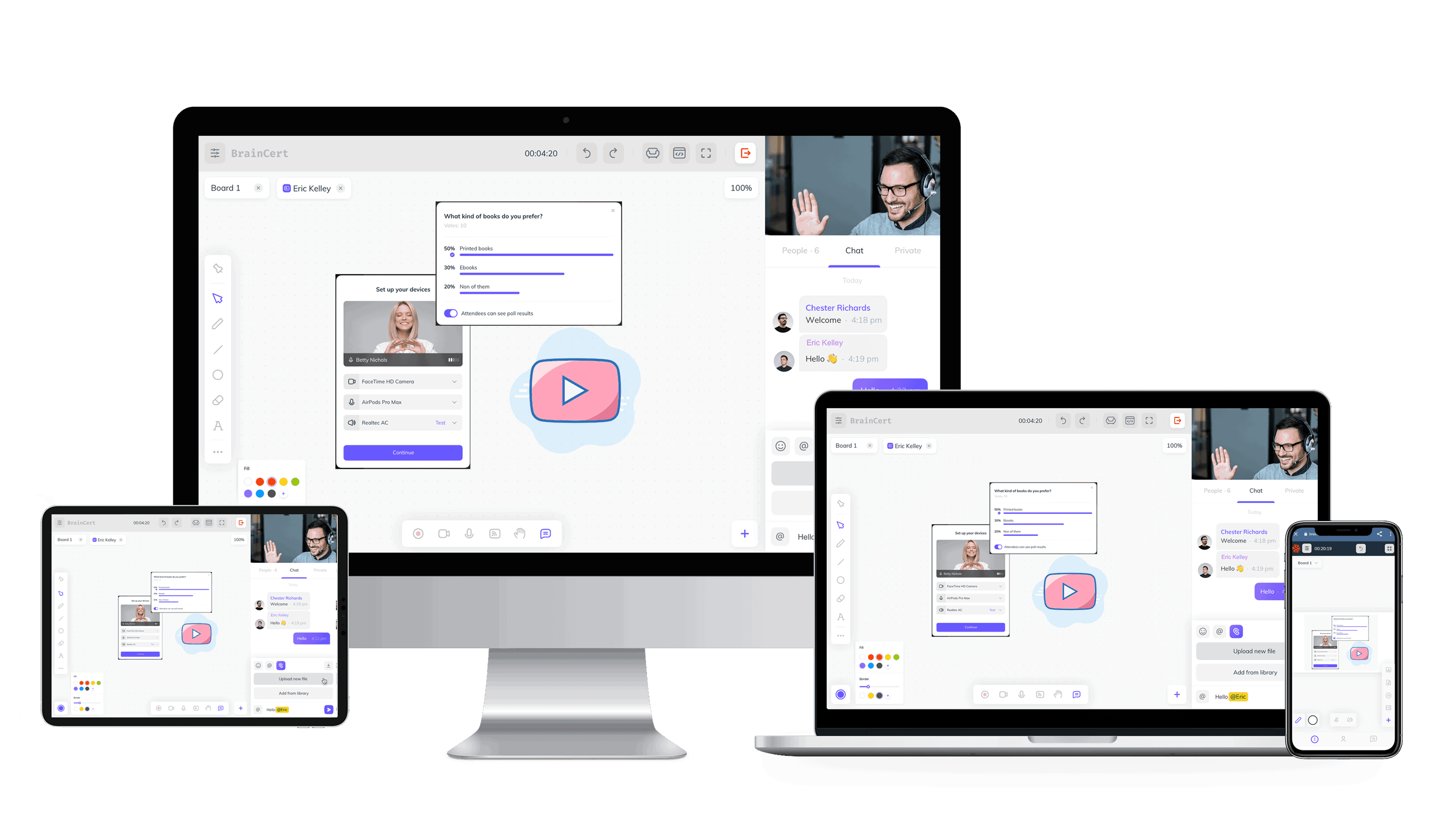 1. Interactive online whiteboard
Make the classes more visually engaging & better maintain the participant's focus using our built-in interactive online whiteboard. Draw, type, embed content, and emphasize important points.


2. Line Tools & Shapes
Powerful line tools and advanced shapes such as triangle, rhombus, pentagon, hexagon, cylinder, cube, cone, and other shapes in the whiteboard make it easy to deliver any type of creative and educational training online.


3. Breakout Rooms
With BrainCert's Virtual classroom platform, you don't have to miss out on splitting students into smaller groups. You can create virtual spaces for students to interact during a set time in-between live classes.


4. In-Built LMS
BrainCert's online live class platform comes integrated with our LMS that lets you seamlessly track learner progress and performance through the dedicated trainer dashboard.


5. Plug & Play Model
With our WebRTC online class platform, you don't have to download any software or plugins. Because of our Virtual classroom platform's easy & intuitive design, you don't have to worry about training students to use the platform either.


6. White-labeled Platform
BrainCert's Virtual classroom platform lets you customize the look & feel of the Virtual Classroom by using the easy-to-use color picker tool. We give you a free hand to change the color, theme, domain, place your logo, etc.


7. Learn on-the-go
The responsive design of BrainCert's Virtual classroom platform lets users attend classes on the go on their smartphones or tablets without installing any applications.


8. Document Reader & Annotation Tools
Now you have full control over showing your presentations and documents on the whiteboard. Rotate, annotate, highlight - all the essential document tools you need to engage your attendees.



9. Cloud Media Player
Instructors can control the Play, Pause, and Seek controls when streaming a video or audio file or give back the controls to attendees to control it on their own. Your videos are streamed securely using a 256-bit SSL encrypted connection.


10. Latex Equation Editor
With the built-in interactive LaTeX Equation Editor, it is now incredibly easy to create and display complex LaTeX mathematical equations inside a whiteboard using a graphical UI without typing any LaTex code.


11. WOLFRAM|ALPHA
Wolfram|Alpha is a computational knowledge engine that gives you access to the world's facts and data and calculates answers across a range of topics, including science, nutrition, history, geography, engineering, mathematics, linguistics, sports, finance, music... all right inside the whiteboard.


12. Group Screen Sharing
Highly intuitive HTML5-based Group Screen Sharing in HD allows instructors and students to share their computer screens in a tabbed whiteboard interface and annotate on top of shared screens. Instructors can easily switch between multiple screens that are color-coded for easy identification.


To Conclude
Here we witness the blending of traditional face-to-face tutoring with online learning, and bring education, training, and professional development to a wider audience and impact more learners. You can create your own page, website builder typically allows users to construct their own private site without manual code editing, where you can make your users learn in live sessions and go through courses.
Our cloud-based mobile-friendly environment ensures that users can join from anywhere in the world, using any device. Contact us today, to know more about how BrainCert helps you in transforming learning services in a more affordable and efficient way.