If you are an online teacher, you will find online whiteboards as an incredibly useful tool for online tutoring. An online whiteboard is a virtual collaboration tools and a staple of face-to-face classrooms making them a perfect ally for online tutoring.
What is an online whiteboard?
An online whiteboard is a virtual replica of a traditional whiteboard/blackboard that help teachers and students virtually collaborate with each other in real time. The extend of collaborations possible in a modern day whiteboard such as enabling both students & teachers to write on the whiteboard, play videos from the web or local storage, add documents/images to the whiteboard, & the flexibility it offers makes it indeed a revolutionary change in the eLearning industry.
How to use BrainCert Online whiteboard?
Our Virtual Classroom whiteboard is a tailor-made solution catering to the needs of teachers. Below is the step by step process on how to use our whiteboard for online tutoring at ease.
Step 1 : Schedule your online class
Step 2 : Launch your online class
(Note: If you are not sure about scheduling and launching online classes, then click here to do so)
Step 3 : Once you have scheduled and launched your online class, you will be taken to our Virtual Classroom session where you can see our whiteboard toolbar and play around with it.
Features of BrainCert online whiteboard
Text tool:
Use the text tool feature in BrainCert online whiteboard to insert text. Click on this tool and start typing text where ever you want on the whiteboard. You can also customize font type and font size.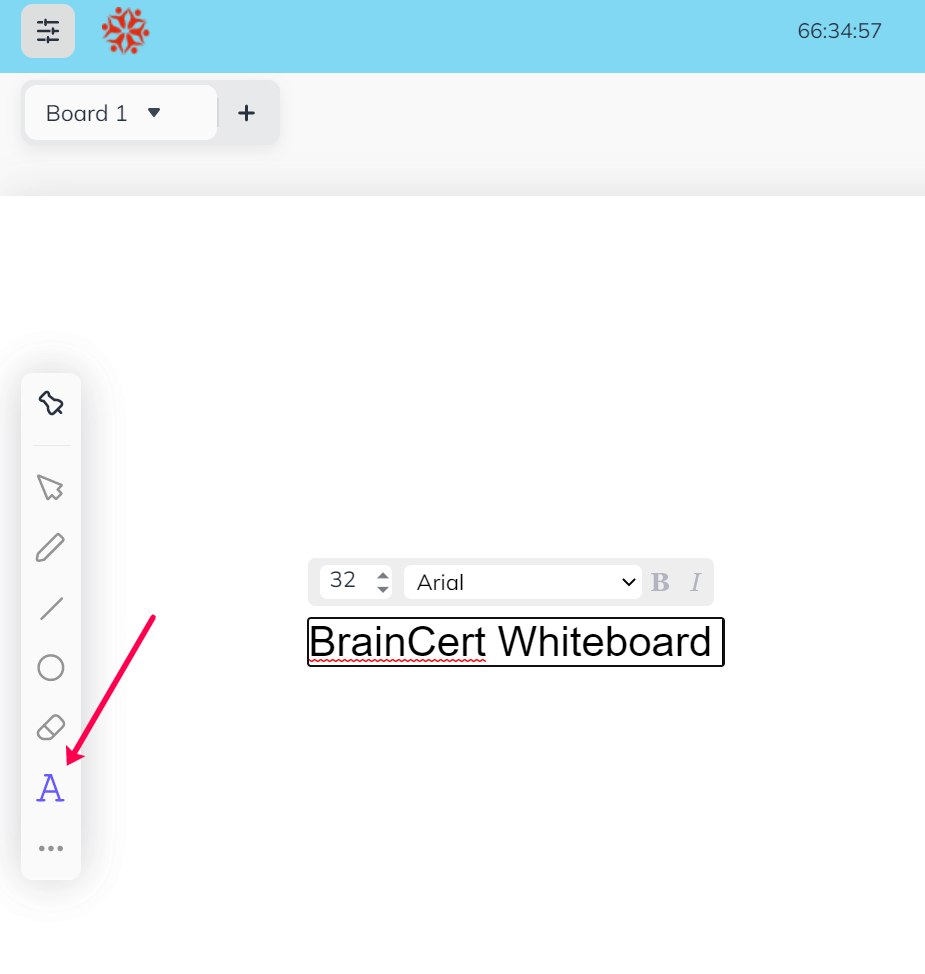 Emoticons:
Use this tool to insert emoji's wherever you want on the whiteboard.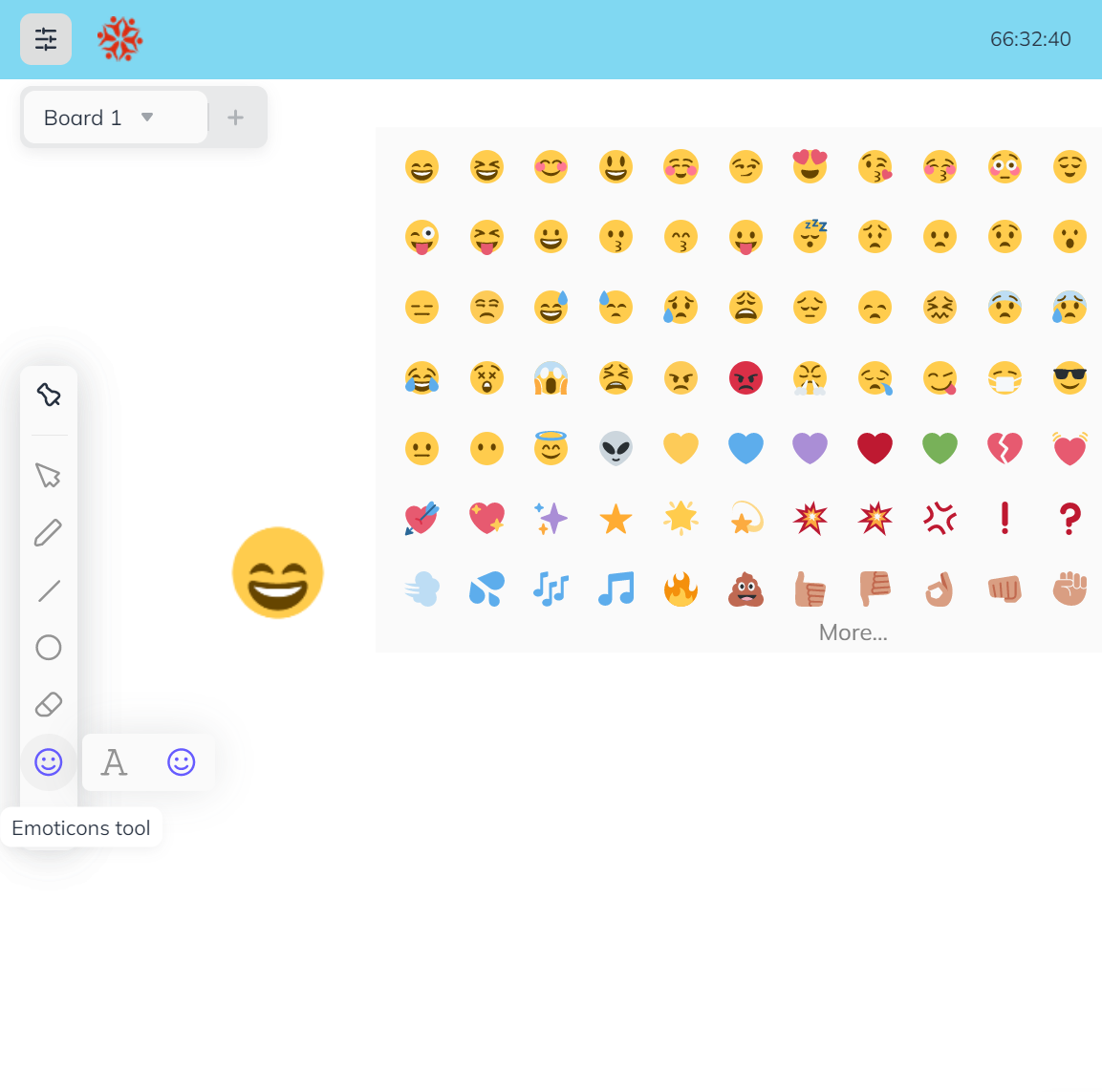 Eraser:
This tool helps to erase or delete elements on the whiteboard area.
Latex:
Our LaTeX Equation Editor helps to create and display complex LaTeX math equations.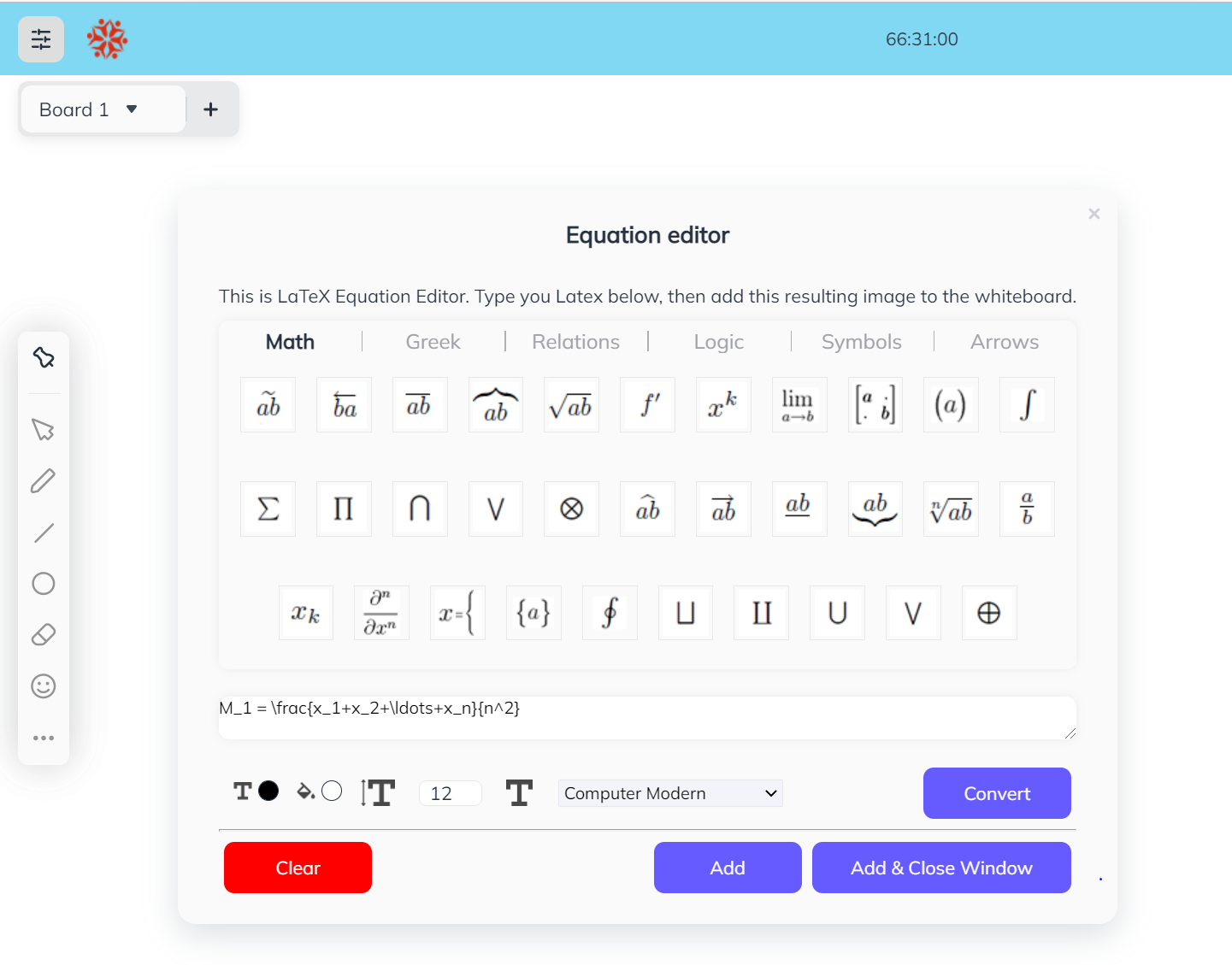 Grid lines:
This tool helps to apply a grid on a whiteboard and it widely helps for a mathematics or economics class.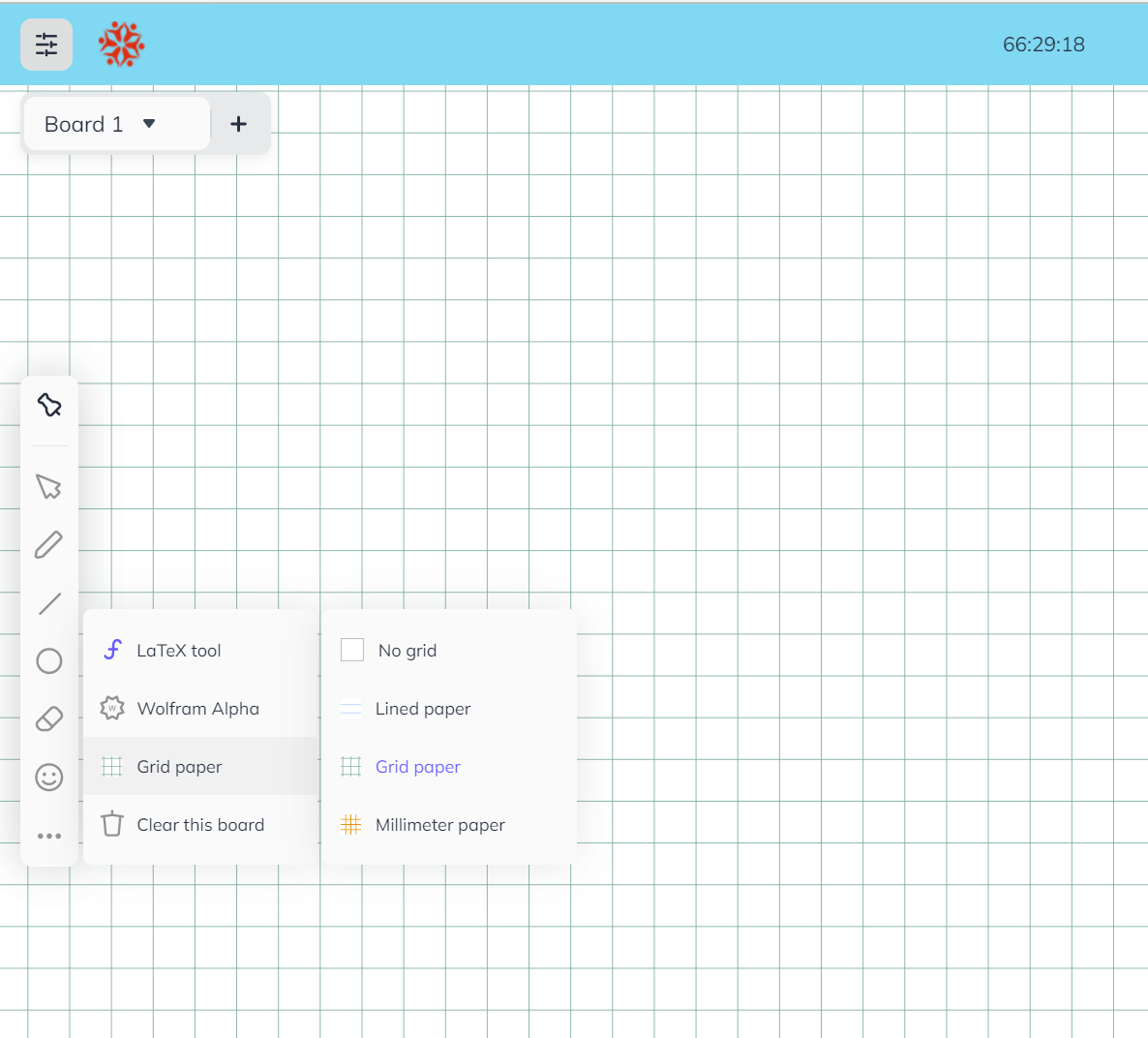 Line tools and shapes
Powerful line tools and advanced shapes such as triangle, rhombus, pentagon, hexagon, cylinder, cube, cone and other shapes in the whiteboard makes it easy to deliver any type of creative and educational training online.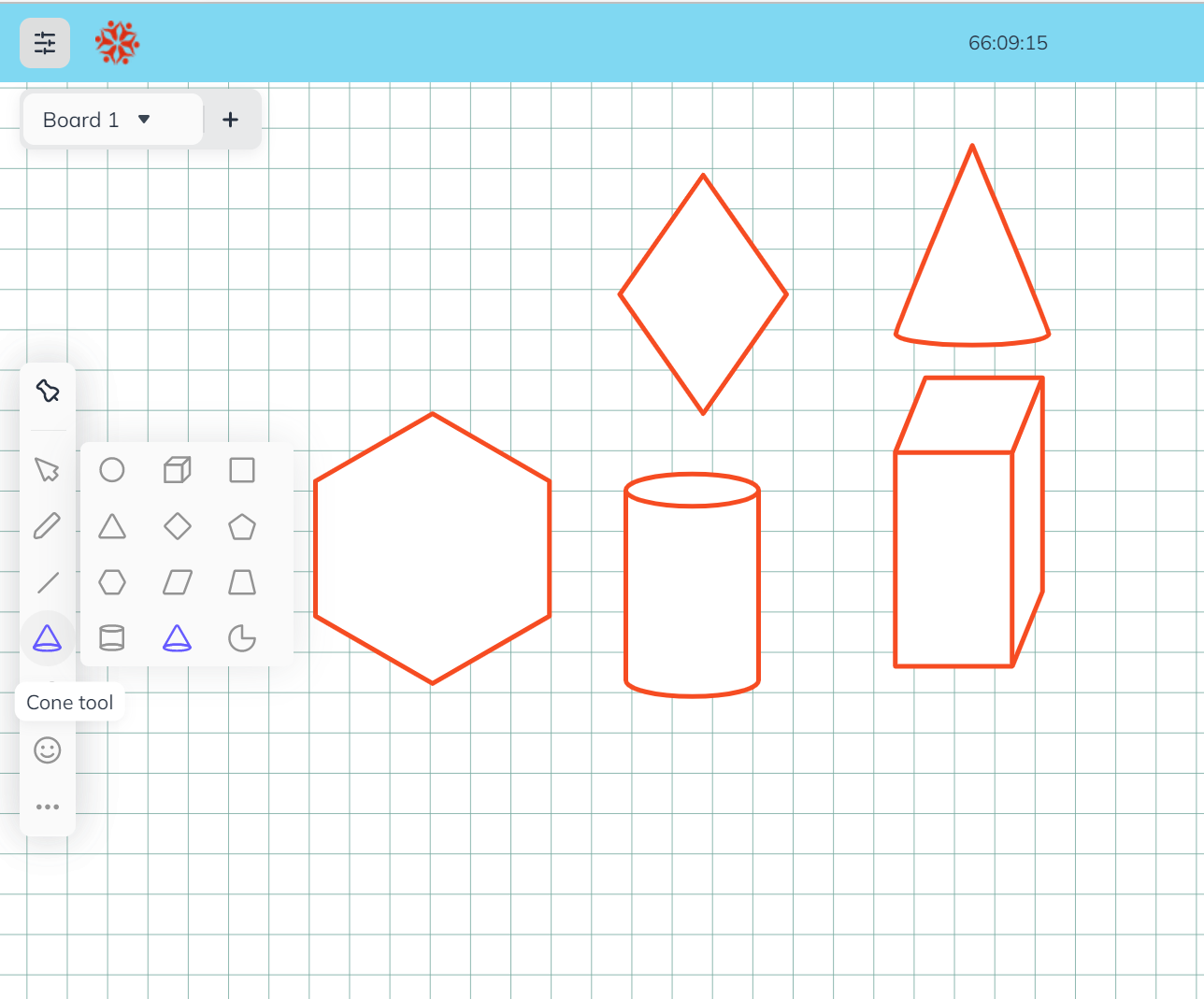 Pencil tool
You can either write or draw with pencil tool.
Highlighter
This tool highlights content over the whiteboard.
Select tool
This tool helps to select objects to edit, move or delete.
Document reader and annotation tool
This tool helps to open the document files (this includes pdf, doc, csv, xls,ppt etc.,) over the whiteboard area. You can choose files from our content library, from your computer or even upload it from cloud.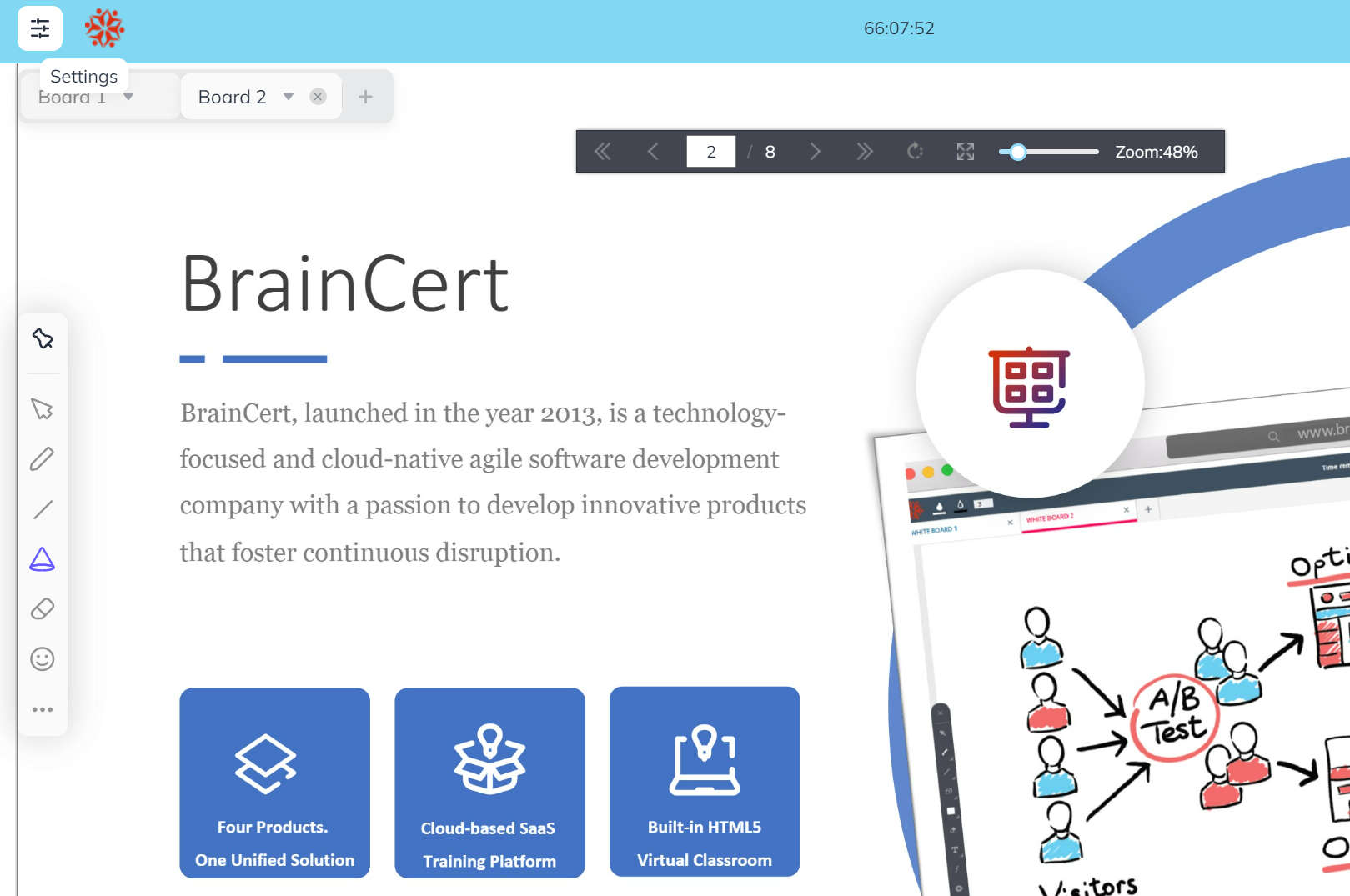 Cloud Media player
This tool helps to play video over the whiteboard area. You can either copy paste the video link and click on play or play videos from content library.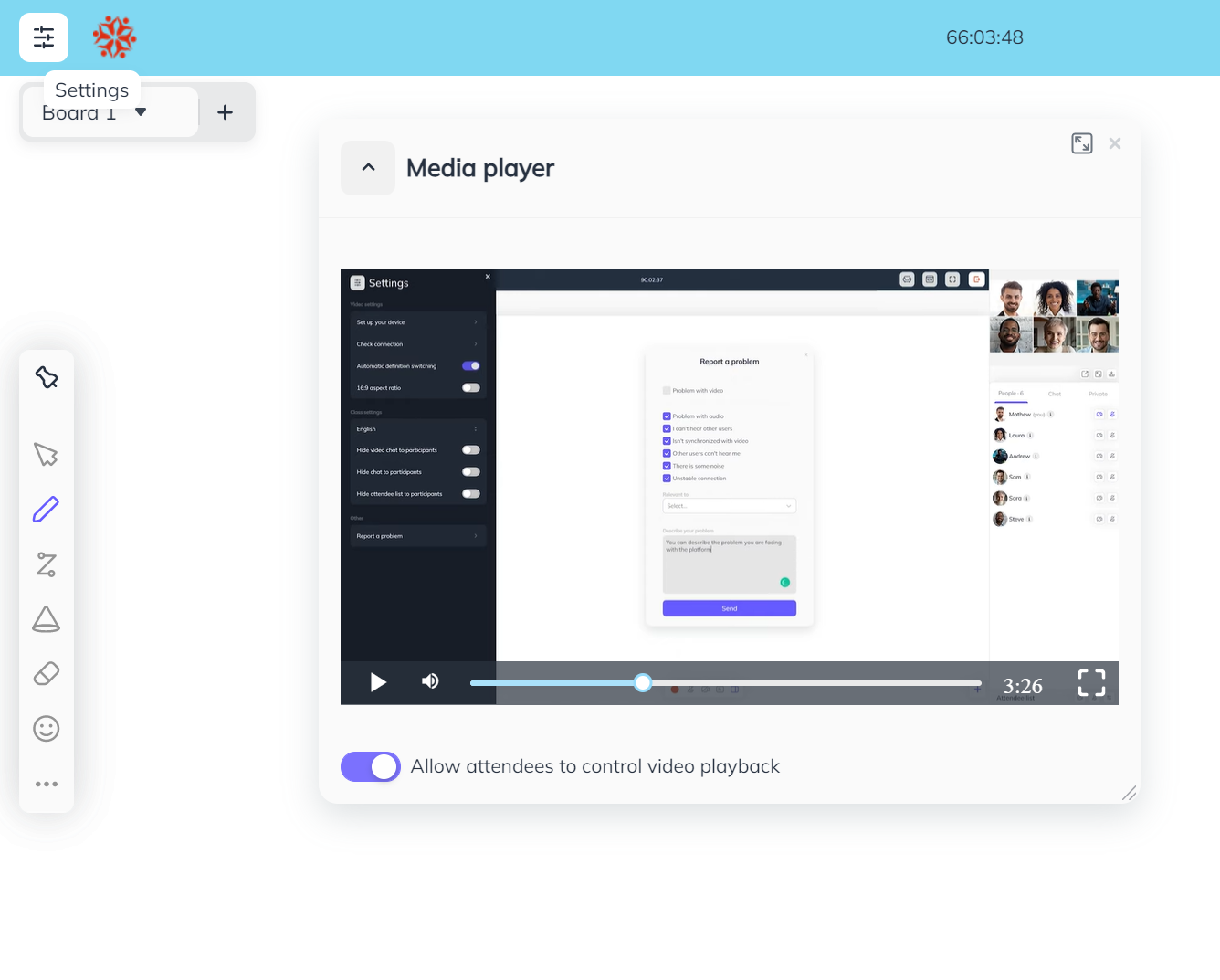 Image Tool
You can upload the images from your computer over the whiteboard area using this.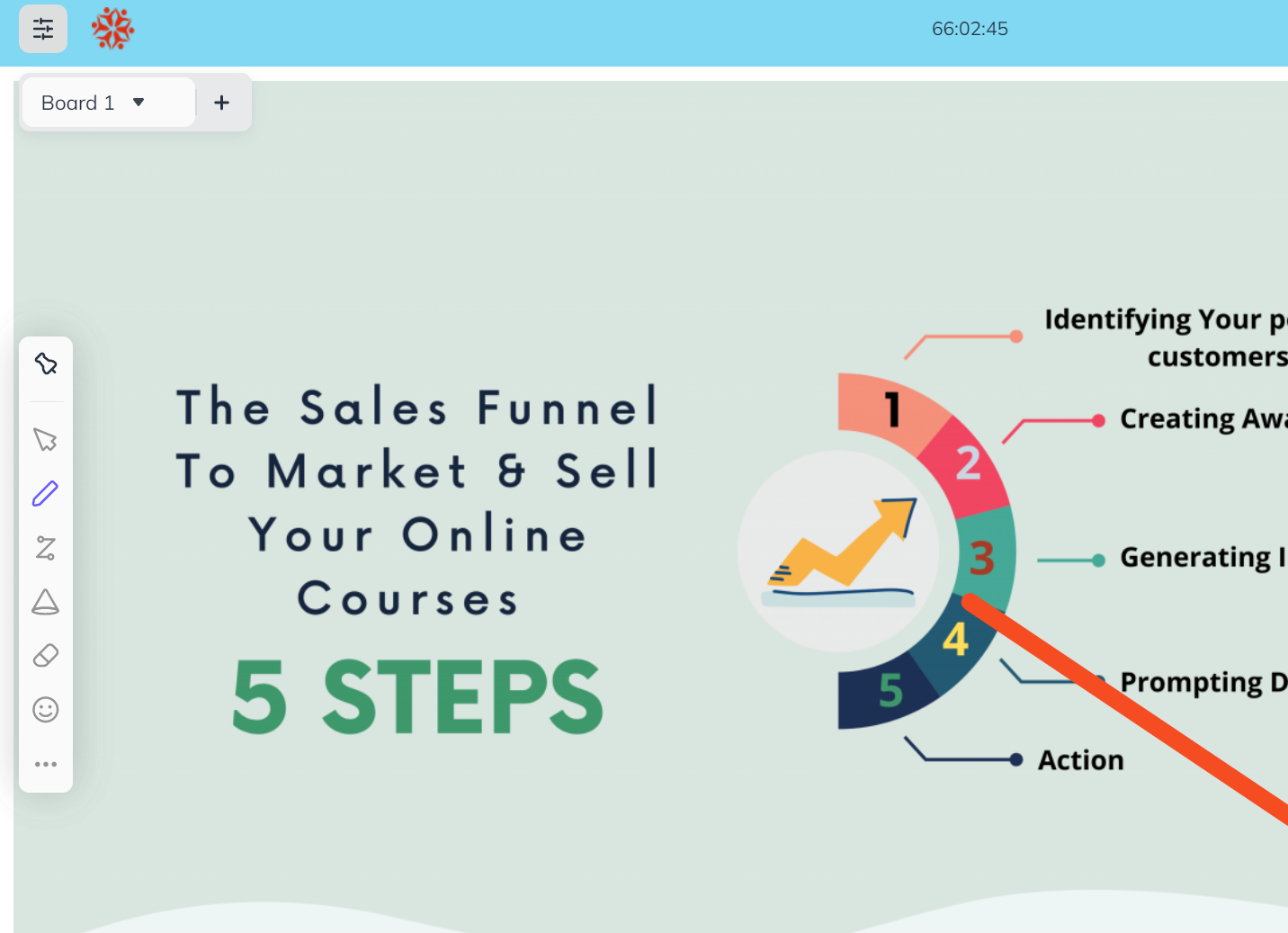 Save & load whiteboards from cloud storage
You have an option to save the specific whiteboard tab to cloud storage and load it in any whiteboard tab and in any live class session. This is a great way to quickly show the whiteboard tab without repeating the same content again in another class.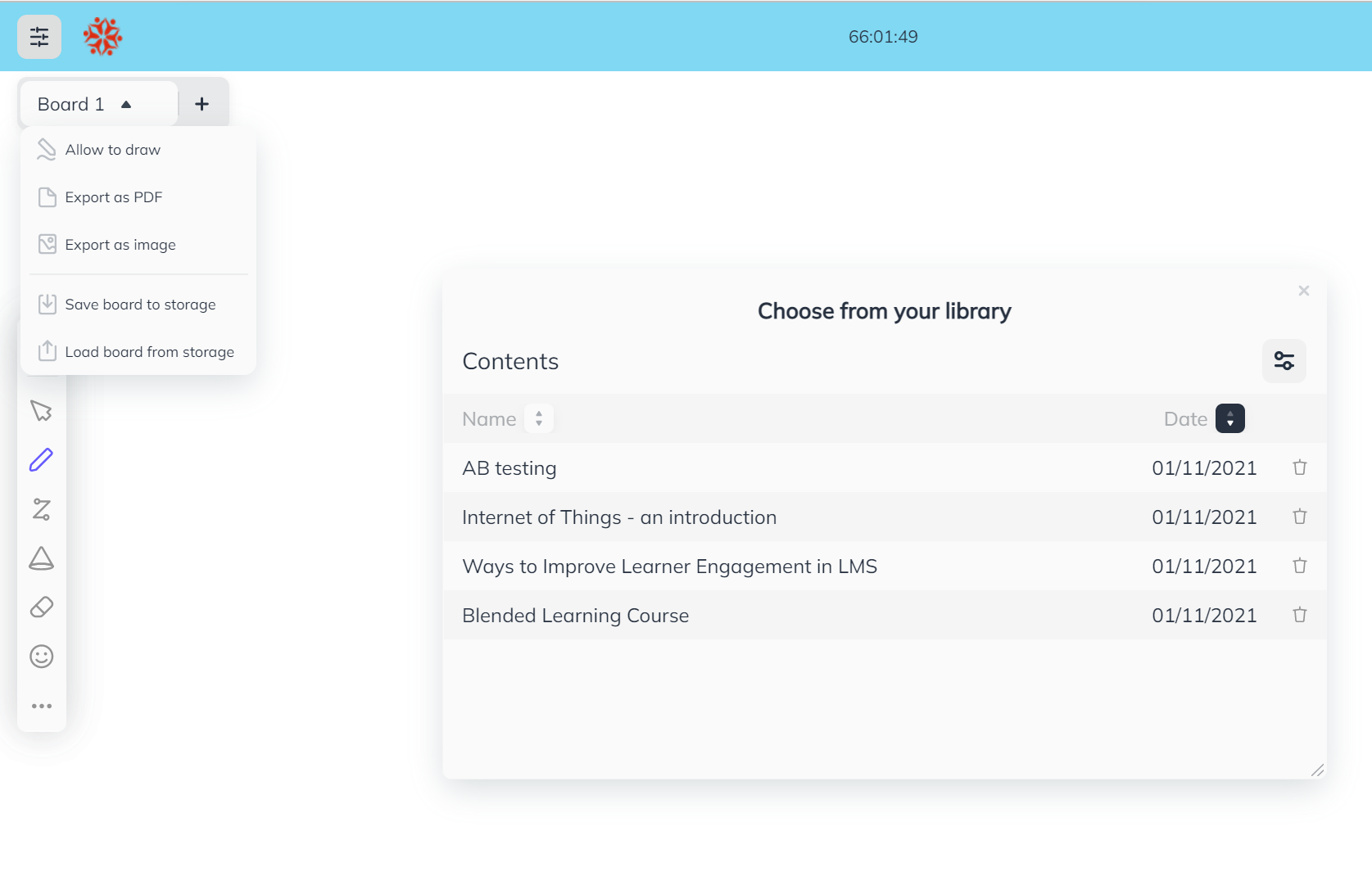 Export whiteboard tab as PDF or image file
With this feature you can  export the whiteboard session as PDF or an image (JPEG) file.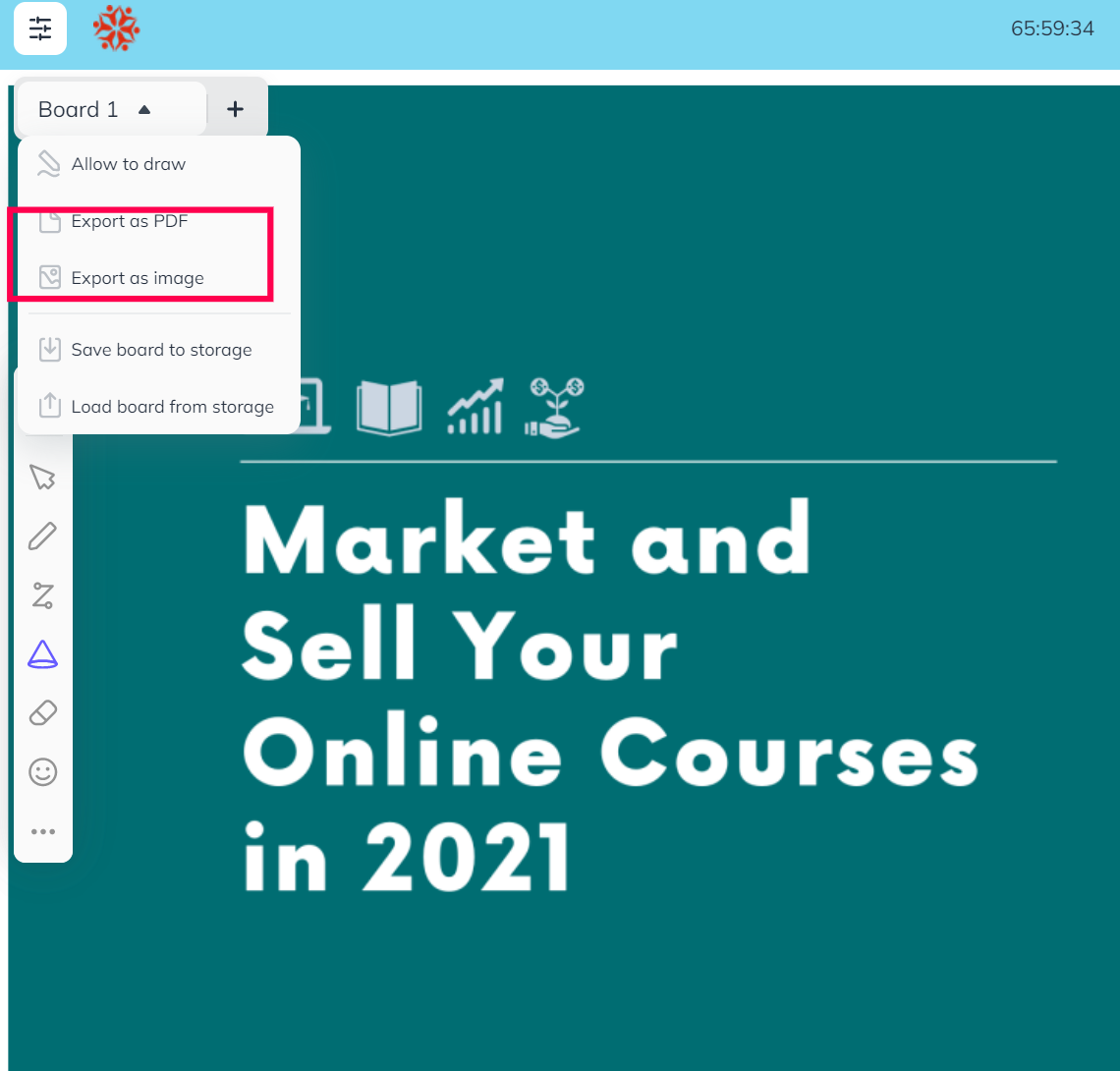 WOLFRAM|ALPHA
Wolfram|Alpha gives you access to the world's facts and data and calculates answers across a range of topics, including science, nutrition, history, geography, engineering, mathematics, linguistics, sports, finance, music... all right inside the whiteboard.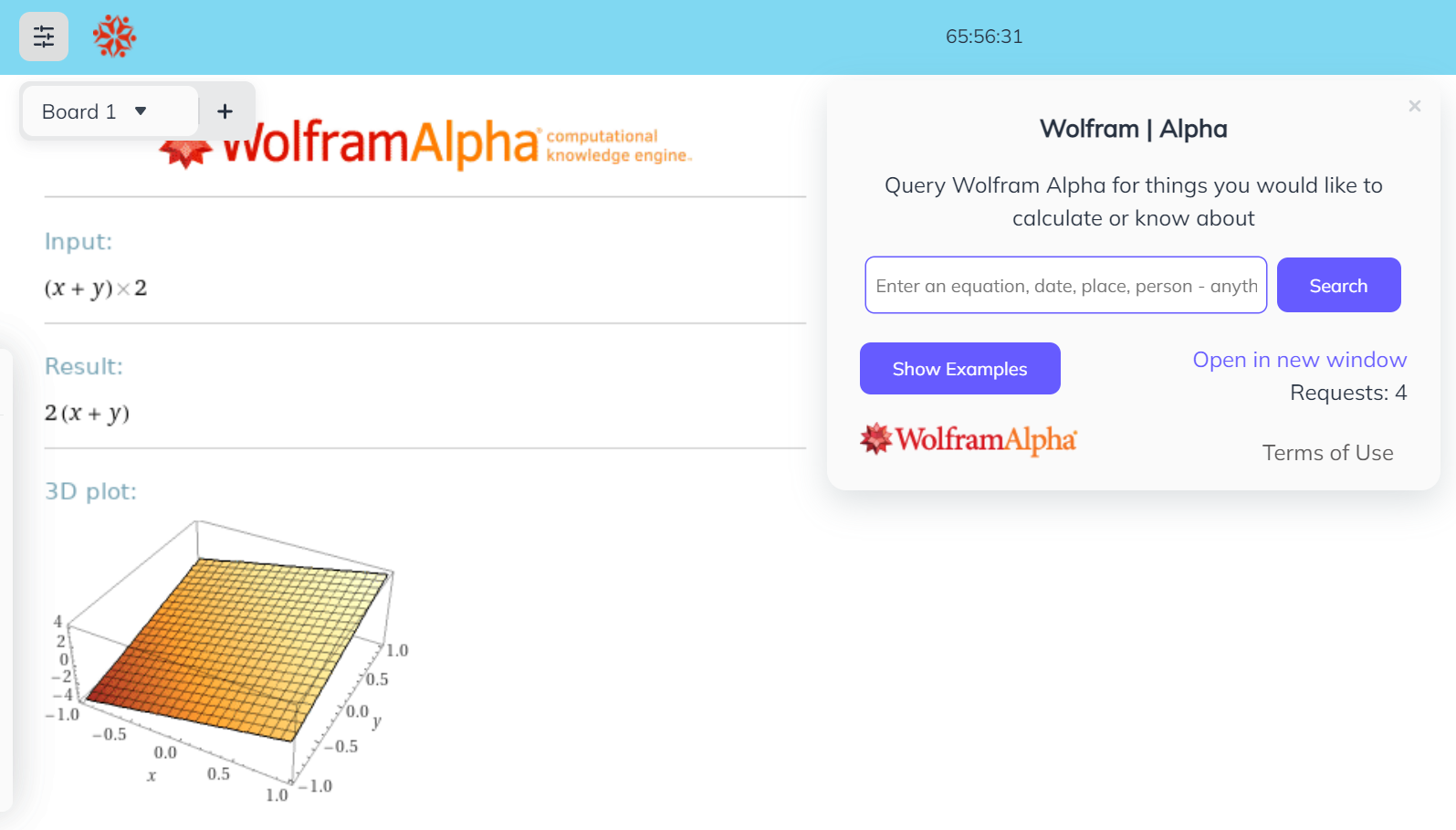 Multiple Language
Force interface language in specific language to all attendees with a click of a button or allow attendees to change the interface language to their mother tongue. This intuitive and powerful feature allows you to offer over 50 human translated languages to your attendees.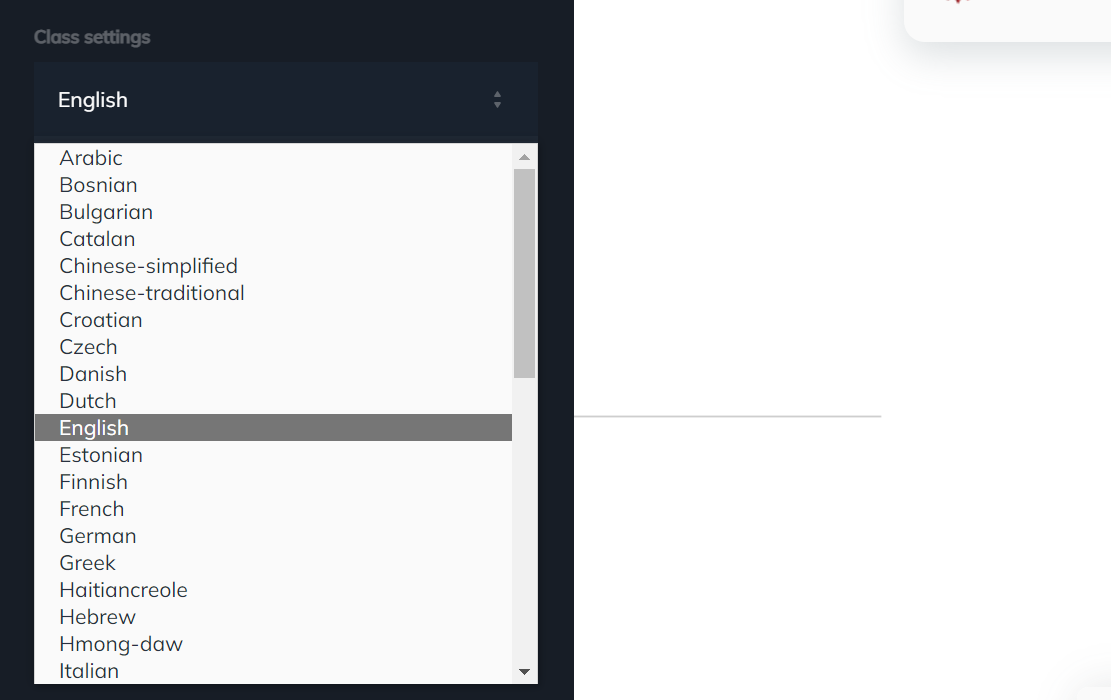 Multi Screen Sharing
Highly intuitive HTML5-based Group Screen Sharing in HD allows instructors and students to share their computer screens in tabbed whiteboard interface. Instructor can easily switch between multiple screens that are color coded for identification.
How do you benefit from using our online whiteboard?
You will gain the following benefits using our whiteboard
Better collaboration
Deliver better learning experience
Structure lessons at ease
Deliver an engaging and fun learning environment
Save on your teaching costs
Flexible Scheduling
With the above mentioned array of features, our whiteboard would definitely be a best companion in your online teaching. You can request for a free demo here to explore the full features of our online whiteboard.