Online teaching is becoming popular and adopted by many schools and colleges due to the Coronavirus outbreak. The global lockdown and the COVID-19 pandemic has forced many schools, universities and learning and development professionals to shift rapidly from in-person to online learning.
Remote teaching and learning is becoming extremely popular and creates huge opportunities for effective learning and collaboration outside the classroom. But still remote learning and teaching comes with unique set of challenges.
We at BrainCert, look forward to help all schools, teachers and educational institutions who wish to opt for online teaching and learning by providing right set of innovative tools to tackle the challenges.
Key Benefits of using BrainCert for online teaching:
Creation of multimedia course materials that is very interactive
Deliver live class sessions
Interactive learning experiences to students
Robust communication to students with an easily archived way
Engagement with others in learning
Now let us look on how to move your classes online and collaborate remotely using our platform.
Create an online lesson plan:
Before scheduling your online live class prepare a lesson plan or list of topics that you are going to cover in your online class. If you are not sure about creating your online lesson or course, you can very well use our online course builder to quickly create an online interactive courses in a fraction of second. Our intuitive interface has a set of pre-defined customizable templates to create courses easily.
Scheduling an Online Class:
Both our Elearning Platform and LMS product offerings has integrated Virtual Classroom to deliver live online classes.
Below are the steps to set up live online classes in our Elearning Platform
Click on "Schedule a Live Class" under Teach menu in EP.
Once clicked, class scheduler will open where you can select the right datacenter closer to you for best performance.
Fill out other necessary fields like title, date, timezone etc and once done click schedule and continue.
Once all the above is done you can launch your live class in the said time.
Schedule recurring classes:
We support scheduling recurring classes that can repeat automatically without the need for creating multiple classes.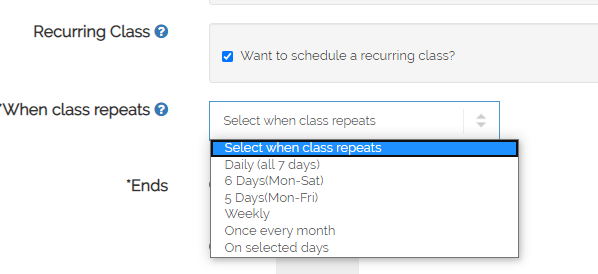 Inviting participants to your class:
Once you scheduled your live class you can invite participants to attend your class.
Go to manage live classes and click on "invite by email" as shown in the below screenshot and enter the email address of all the participants and finally click send.
Participants will receive a meeting invite in their inbox, by clicking the invite link your participants will be able to join the live class.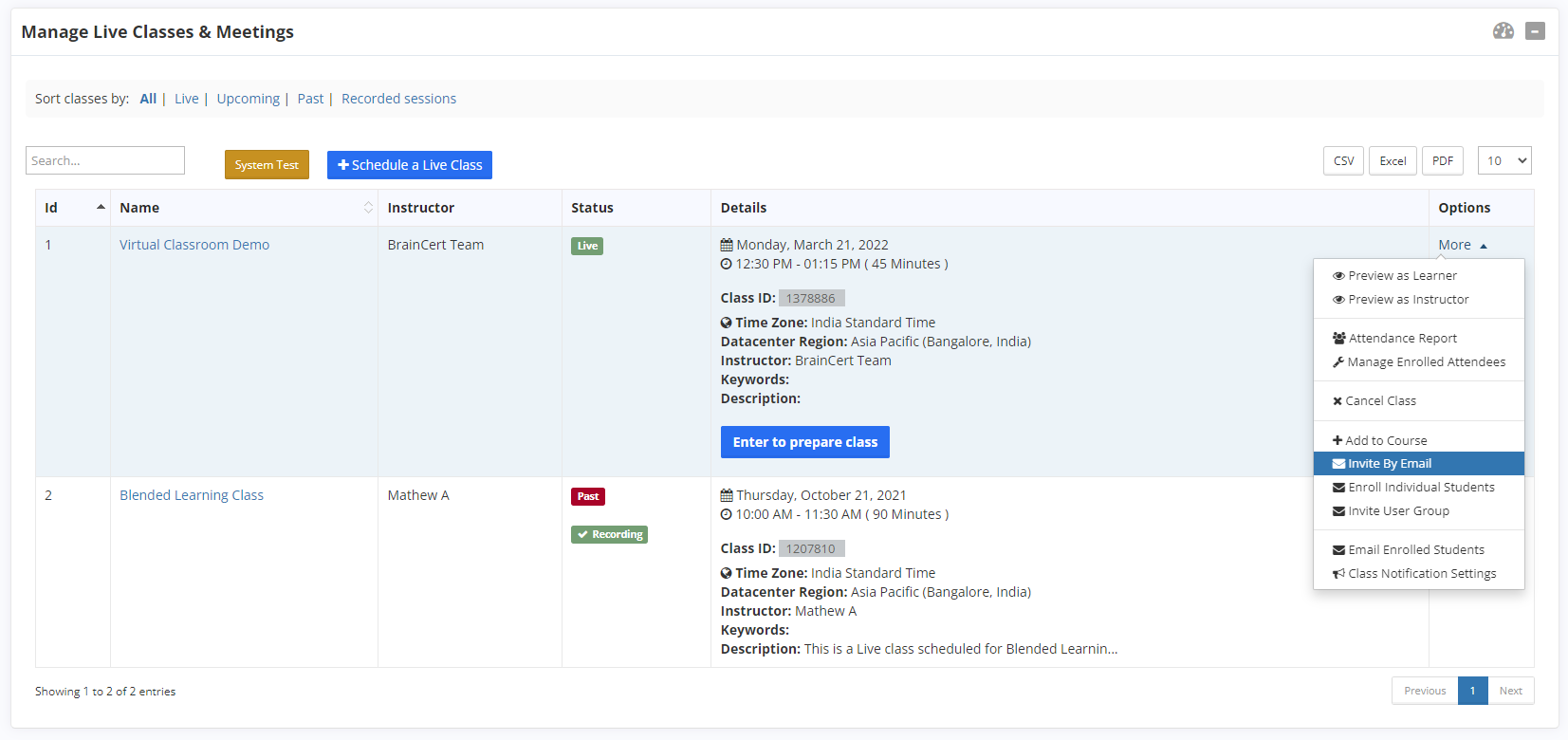 Sharing Your Screen:
Our HTML5 Screen Sharing solution allows you to share your full desktop screen or specific applications in HD. Instructors would need to use either Chrome or Firefox or any supported browser to start screen sharing. The attendees can be on any browser to see the shared screen.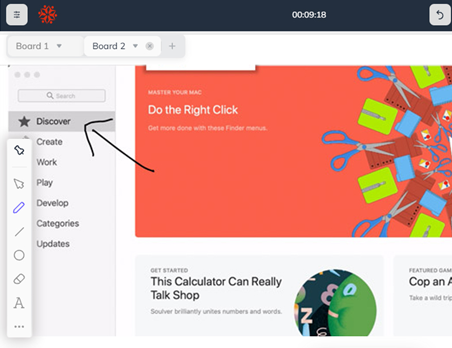 Setting up Breakout Rooms:
With the help of live Breakout rooms, you can split your class into smaller groups so that your students collaborate and practice individually. There are no limits to the number of breakout rooms you can have.
Once you click breakout room icon, you will see a popup with options to create a break room and move attendees.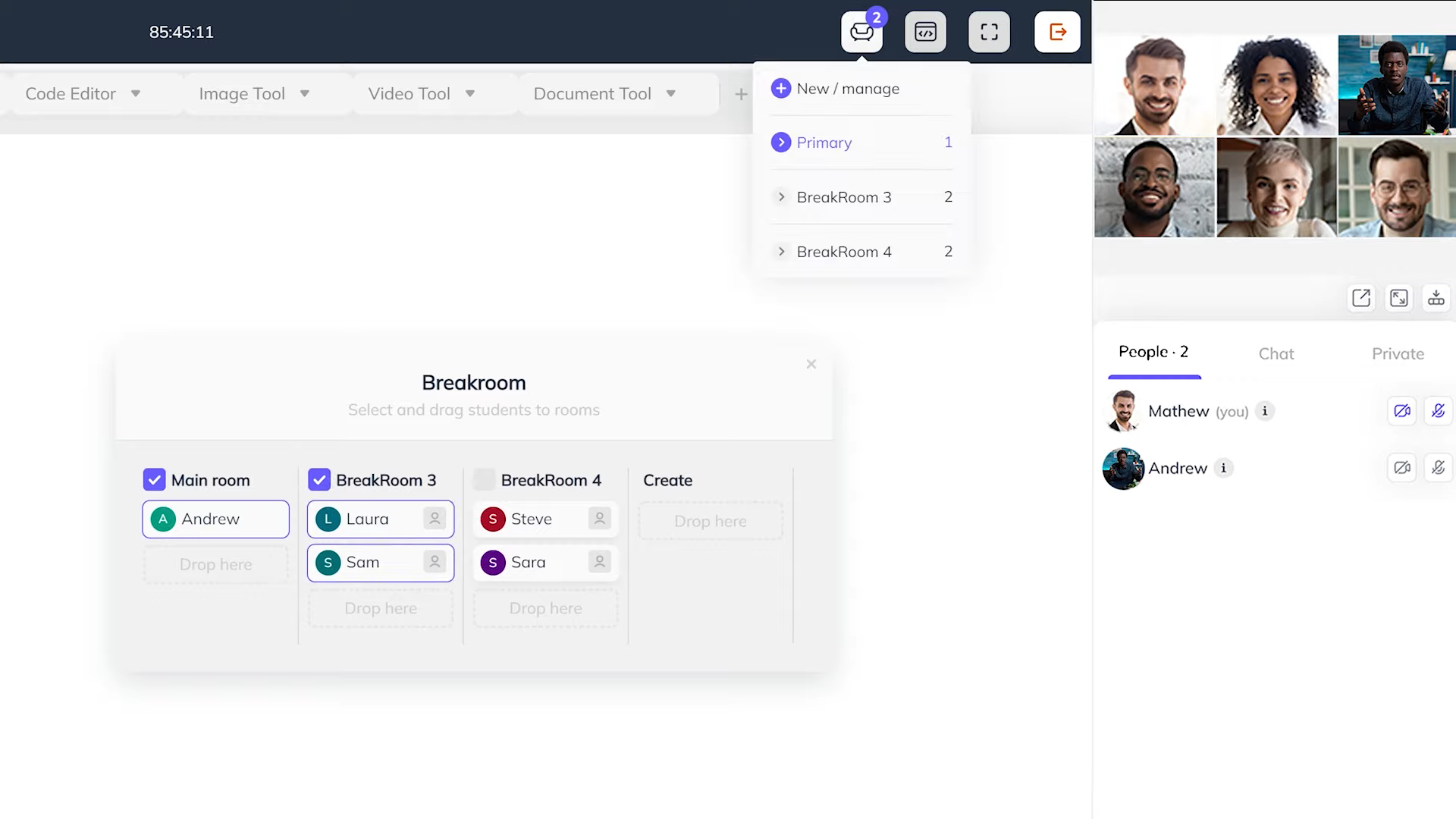 Whiteboards:
Our online whiteboard help teachers and students to collaborate each other in real time over the internet and can be accessed over any device. Lesson materials can be displayed over the whiteboard and this might include even audio or video. With online whiteboard the possibilities for collaboration are endless. Also online whiteboard helps to engage meeting enabling you to write, draw and even play videos. Check out more here.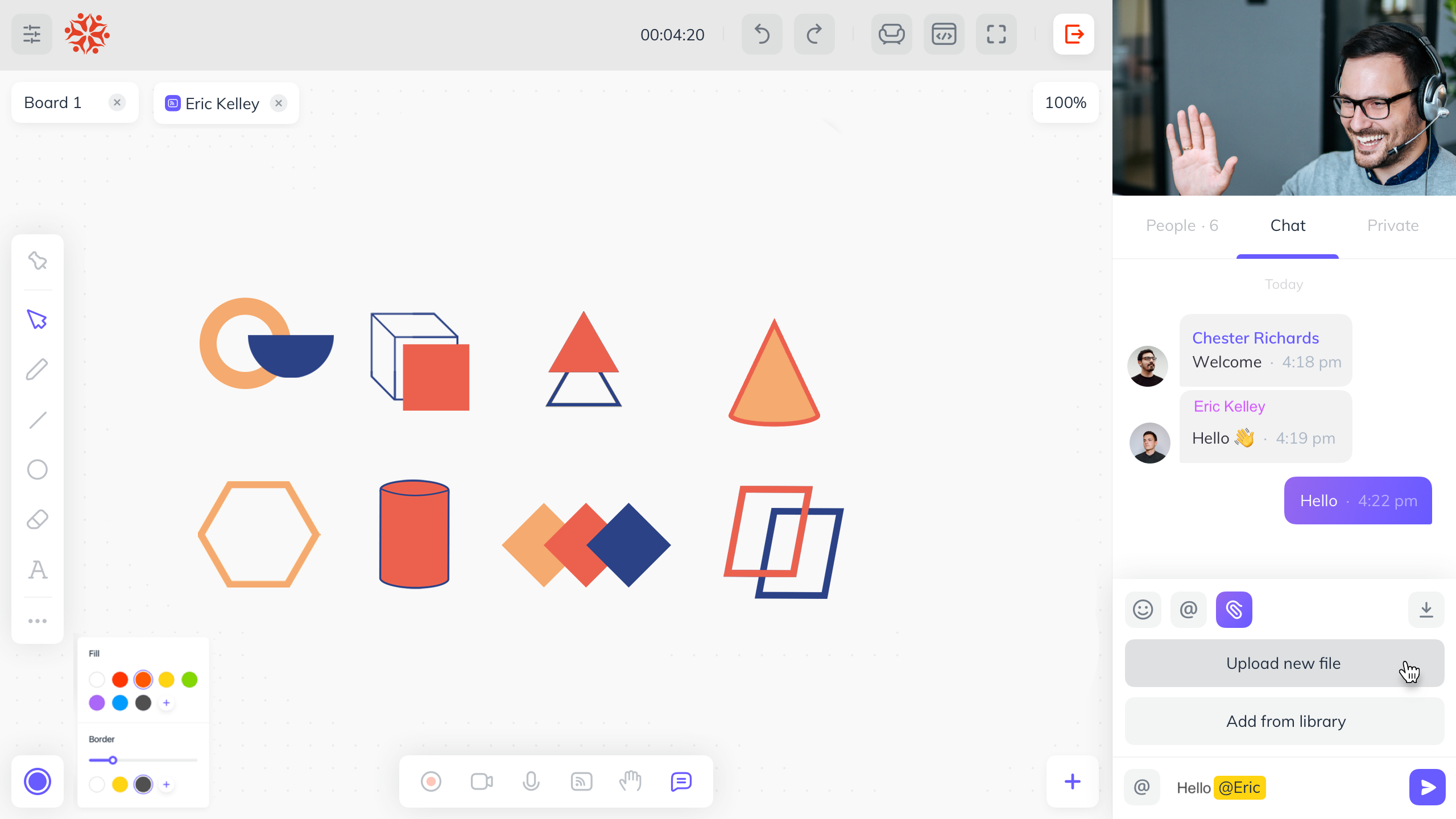 Recording your online class:
With our Virtual Classroom, you can even record the live class and share it with attendees. The recorded videos are automatically encoded to MP4 format in brilliant High Definition (HD). You will receive an e-mail notification when the recorded video is processed and ready to view.
The classes can be either recorded manually once you enter the Virtual Classroom session or automatically as we do support automatic recording.

In case you wish to opt for automatic recording make sure you select the below option once you schedule the class.

Code Editor:
Our integrated feature-rich code editor helps to teach programming online. It provides powerful IDE-like features along with support for scripting languages such as HTML, CSS, Python, PHP and many more letting the instructor to teach code with great speed and efficiency.
Moderation tools:
Our Virtual Classroom comes with powerful moderation tools where Instructors can click on the student's name and grant video/audio access, and whiteboard control inside the Virtual Classroom session. Instructors can also kick a user out of the room.
Polls and Surveys:
Polling feature enables you to create questions for your meetings. You will be able to launch the poll during your meeting and gather the responses from your attendees.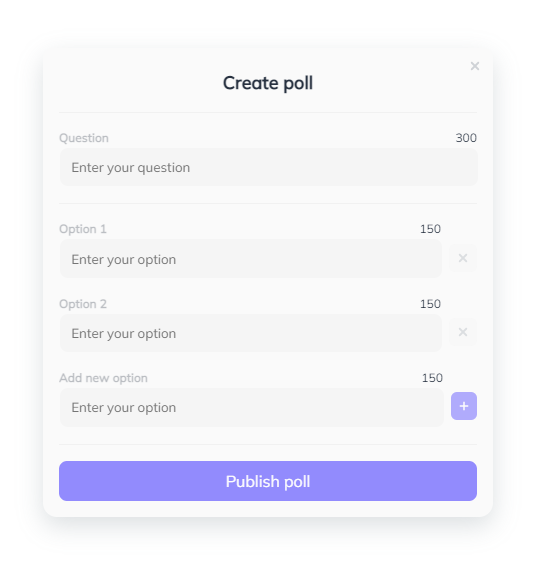 Group Chat:
Group text chat is available to interact with instructor and students in real-time.
Are you interested in moving your classes online for a real-time collaboration with your students?
Deliver interactive and world-class learning experience to your students with the most secure and trusted platform.
Connect with us for a free demo and trial and explore the innovative features of our product offerings.